Talented, outspoken, patriotic, and a UN Goodwill Ambassador, Magida el Roumi has become one of Lebanon's, and the Arab World in general, most significant personalities. At the beginnings of her career, many thought that the young
Studio Al Fan
winner sought to compete with Fairuz. Like Fairuz, she was mixing East and West in her style, and primarily sang in classical and Lebanese Arabic. She was also the daughter of Halim El Roumi, the producer who gave Fairuz her stage name, put her on the air, and introduced her to the Rahbani family. Though both were influenced by Western music, Fairuz introduced jazz into her music with Ziad Rahbani, while Magida's style was influenced by classical Western music. Her signature style, melding beautiful classical Arabic poetry with music that combines the best of classical Arabic and Western music, produced many hits like
Kalimat
and
Kon Sadiqi
. Magida excels in the traditional
tarab
style, but she is also a soprano and has several operatic songs, like a rendition of the
Ave Maria
and her duet with Jose Carreras,
Light the Way
.
E'tazalt El Gharam
(
I Have Retired from Love
) was a welcome return for Magida to the mainstream music scene in 2006. Both of her 2003 albums,
Cithare Du Ciel
and
Erhamni Ya Allah

,
were religious ones, and her last secular album,
Ouhibbouka Wa Ba'd
, was released in 1998. This album was both familiar and new for Magida, with musicians she has worked with for over a decade and others for the first time.
Al Hob Wal Wafa'
(
Love and Fidelity
), composed by Dr. Abdelrab Idriss, is a poem in classical Arabic and reminiscent of Magida's early work with the great Yemeni-Saudi composer.
Idriss' other song,
Fi Lailika Al Sari
, Halim El Roumi's Latin-twinged
Ya M'azeb Albi
, Joseph Khalife's operatic
Sawfa Nabqa
, and Ihsan El Mounzer's
Kif
are all also in the signature style of her previous albums, melding the beauty of classical music from the East and West. On the other hand,
E'tazalt El Gharam
was her first collaboration with Melhem Barakat. Along with its broadway-inspired video, it became one of 2006's biggest hits. Magida collaborated with Marwan Khoury
(Ghanni Lel Hob
and
Ouhibbouka Jiddan
), Jean-Marie Riachi (composed
Bel Alb Khallini
and arranged tracks 1-4), Claude Chalhoub (arranged
Ghanni Lel Hob)
, and İsmail Tunçbilek (arranged
Al Hob Wal Wafa'
and
Fi Lailika Al Sari)
for the first time. She also sang an Arabic rendition of
Adagio
, titled
Habibi
, and Mendelssohn's
Wedding March
, titled
Nashid El Zafaf
(
The Wedding Song
).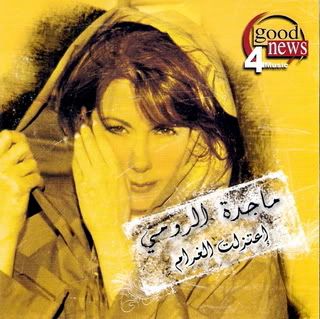 1. Ouhibbouka Jiddan
2. Habibi
3. E'tazalt El Gharam
4. Bel Alb Khallini
5. Kif
6. Ghanni Lel Hob
7. Al Hob Wal Wafa'
8. Nashid El Zafaf
9. Fi Lailika Al Sari
10. Ya M'azeb Albi
11. Sawfa Nabqa
Download Here
256 Kbps + Covers