Myriam Faris truly broke out of the mold of her debut album with
Nadini
. Instead of tired remakes, Myriam worked with some of the greatest names in the industry, new and old. With only two ballads on the album (the très traditionnelle
Hassait B'Aman
and the more pop-ish
Hassesni Bik
), Myriam's album is young and whether it goes for Europop or belly dance beats, it's upbeat dance music. The album opens with hit title song, a fast-paced, and extremely catchy, electronic song, composed by Mohamed Rahim from Egypt, and arranged by Jean-Marie Riachi from Lebanon.
Anadiya
is an irresistable mix of traditional Arabic music and electronic beats, with the song moving from violins and
riqq
to accordions and club beats in a heartbeat. To a similar effect,
Ha'leq Ala Rahtak
opens like something out of a
Zorro
movie and turns into a quintessential belly dancing song. Boudi Naoum follows up 2003's
Shou Baddo Ysir
, with another very Europop offering,
Leih Habibi
, which the versatile Myriam works with very well.
Za'lan Menni
is for fans of the Latin sound, with brass and Latin beats mixing with heavier Arabic beats.
Ma'rafsh Had Bel Ism Dah
takes a similar path, adding
mizmar
and doing away with the Latin beat.
Khallini Tir
, which more or less qualifies as a ballad too, combines Tarek Abou Jaoudeh's dramatic composition with Ravi's excellent arrangement, combining heavy strings with
kanun
,
riqq
, and powerful beats. The album's last single,
Waheshni Eih

,
continues where
Nadini
left off, but adds Arabic beats and
mizmar
to the mix, making for a much more interesting song.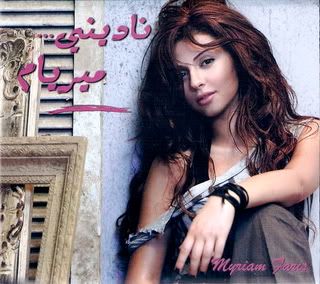 1. Nadini
2. Anadiya
3. Hassesni Bik
4. Ha'leq Rahtak
5. Leih Habibi
6. Ma'rafsh Had Bel Ism Dah
7. Hassait B'Aman
8. Khallini Tir
9. Za'lan Menni
10. Waheshni Eih
Download Here
256 Kbps + Covers