After settling an ugly divorce, finally quitting smoking, and remarrying,
Asalah
released
Hayati
(My Life) in 2006.
Hayati
was, and remains, one of Asalah's most diverse albums. At its release, Asalah stated that each song she chose described a stage in her life. The first single,
Aktar
, was an instant hit, and was constantly played on TV, radio, and she was requested to sing it at every TV appearance or concert. Now one of her defining hits,
Aktar
was even remade by Turkish singer Jale Parıltı. The song was composed by Tamer Ali and arranged by Tamim, both of whom worked on
Elissa
's 2006 hit
Bastannak
.
Arod Leih
is Asalah's second collaboration with Amr Mostafa, and she made the dramatic ballad her second single.
Ana Moush Sa'ba Aleik
and
Nassini Bik
are stylistically similar, upbeat love songs. Asalah shot
Bein Eideik
on the beach with her husband, and made the song, which was composed by Ramy Sabry, a look at how she enjoyed her new life with her husband.
Wehna Sawa
, her first Algerian song, is composed by Mounir El Jazairi, the man behind
Nawal
's hit
Tammen Galbak
.
Wallahi Ma Tahaddi
(by Walid Saad & Karim Abdelwahab) was originally intended for Tamer Hosny, whose version was leaked, but ended up becoming Asalah's, and she more than did song justice. The album's sole Lebanese song,
Alamtni
(by Marwan Khoury & Hadi Sharara), is a slow, malancholic song which met with success for Asalah, who had not sung a Lebanese song since 2001. The title song was Asalah's first attempt at jazz, and combined with the lyrics, which spoke of her newfound liberation, it was well-received as the album's final single. The album won Asalah a Murex D'Or in 2007 for Best Female Arab Singer.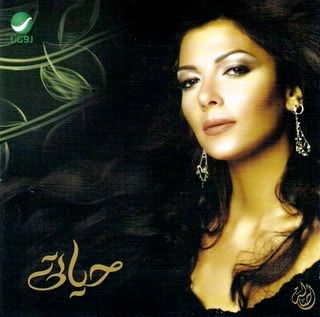 1. Aktar
2. Ana Moush Sa'ba Aleik
3. Arod Leih
4. Alamtni
5. Hayati
6. Wehna Sawa
7. Bein Eideik
8. Nassini Bik
9. Wallahi Ma Tahaddi
Download Here
256 Kbps + Covers