Though
Da'et Albak
is her debut album, Karol Sakr is no stranger to music, having worked in her twenties with Hadi Sharara and other musicians. Karol even released an obscure French single before marrying and settling down. After her divorce, and (later on) marriage to friend Hadi Sharara, Karol returned to the music scene in duet with
Assi Al Hillani
,
Ouli Jayeh
. Three years later, Karol released
Da'et Albak
. Carrying Hadi Sharara's name on every song is a rarity in itself, but the list of composers doesn't pale in comparison either. The hit title song, composed by Melhem Barakat, is a relaxed and upbeat song that manages to go both East and West without slipping into the oriental jazz cliche.
Ya Albi Rouq
, composed by Tarek Abou Jaoudeh (before his split with Karol and Hadi), opens with a light
mawal
and then the song, a great mix of strings, electronic motifs, and guitar, begins. The diverse ballad ends with a traditional, more dramtic mawal with much heavier percussion.
Bmout Alaik
is by the same team as
Nancy Ajram
's
Ehsas Jdid
and
Najwa Karam
's
Ta'a Khabbik
, however Ufuk Yildirm also joins Hadi Sharara on the arrangement.
Sahhart Eyouni
, one of the album's biggest undertakings, is arranged by Hadi Sharara, Aytekin Kurt, and Elie Barbar. A completely different song than the previous three,
Sahhart Eyouni
combines both club and traditional Arabic beats, combined with strings by Group Gumedim from Turkey.
Tammenteni
, the album's sole Egyptian song, takes the same relaxed tone as
Bmout Alaik
.
Shou Baddak
and
Hakini
, both composed by Tarek Abou Jaoudeh, are more upbeat than
Ya Albi Rouq
, but also relatively relaxed oriental songs reminiscent of the majority of his work with Hadi Sharara.
Wain Bla'ik
is an almost completely electronic song, both composed and arranged by Sharara himself.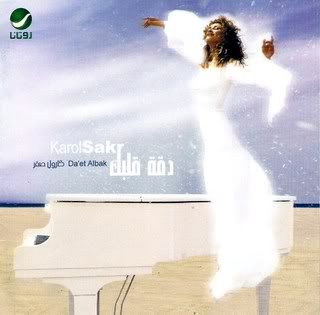 1. Da'et Albak
2. Ya Albi Rouq
3. Bmout Alaik
4. Sahhart Eyouni
5. Tammenteni
6. Shou Baddak
7. Wain Bla'ik
8. Hakini
Download Here
256 Kbps + Covers