Nancy Ajram
began her musical career in 1998, with
Mihtagalak
, and followed it up with
Shil Eyounak Anni
in 2000. But in a scene filled with burgeoning new talents, Nancy did not achieve true success until 2003, when
Ya Salam
was released. The first single,
Akhasmak Ah
, was the first video Nancy shot with director Nadine Labaki. Nadine had directed videos before for Pascale Machaalani and Katia Harb, but neither she nor Nancy had known the kind of success, fame, and controversy that arose from
Akhasmak Ah
's video. The catchy song and video, which depicted Nancy as a waitress/dancer at a local
coffee shop, became Nancy's first pan-Arab hit and started her three-year professional relationship with Labaki, who recently received international acclaim for her debut film,
Caramel
. Though the album has some mediocre songs that try too hard to work in the boy band beats, there are more than a few good songs.
Yay
, an early Samir Sfair-Tarek Madkour hit, is one of the successful pop songs on the album, combining Samir's composition with some guitar, and a Far Eastern twang.
Inta We Bas
, composed by Ashraf Salem (the man behind much of Aline Khalaf's early success), is a fairly enjoyable once you get past the synth Mohamed Mostafa put in the intro as well. Salim Salameh composed three songs on the album, the hit ballad,
Ya Salam
, as well as the more upbeat
Nassito Garho
and
Ahla Jaw
. Often mistaken as Nancy's debut album,
Ya Salam
is worth listening to even if only for the hit singles (
Akhasmak Ah
,
Yay
, and
Ya Salam
). This collector's edition has been remastered by EMI, and the difference in sound quality is definitely noticeable when compared to the original Relax-In release.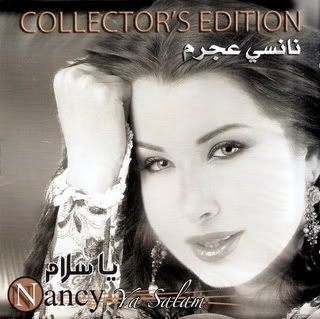 1. Akhasmak Ah
2. Nassito Garho
3. Yay
4. Inta We Bas
5. Ya Salam
6. Ahla Jaw
7. Einan Tara
8. Inta
9. Ashkaraballi
Download Here
256 Kbps + Covers