Ighdab
marked
Asalah
's first (and only) collaboration with the great Syrian poet Nizar Qabbani. The title song, which is composed by Helmi Bakr, is a lengthy
qasida
, and stylistically very different than the first four tracks, which are composed by Mohamed Diya'eddin. The poem talks of an angry lover, and how his anger and attempts to hurt her will not make her falter, "for you are like a child, we love children no matter how they hurt us... And without waves, there would not be seas."
Law Alf Ahebbak
and
Batthadda Eyounak
are typical 1990s Egyptian
maksoum
songs with a synth, fast percussion, accordion, a bass line and little in the way of musical innovation.
Magrouh Sout El Sa'at
and
Ma Tes'alnish
are both slower, Egyptian ballads.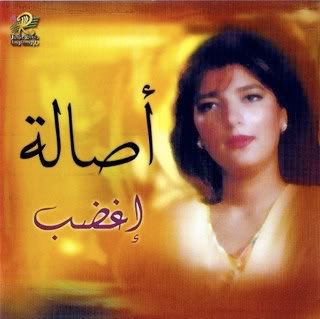 1. Law Alf Ahebbak
2. Ma Tes'alnish
3. Batthadda Eyounak
4. Magrouh Sout El Sa'at
5. Ighdab
Download Here
256 Kbps + Covers