Julia Boutros' follow-up to her hit 2004 album,
La B'ahlamak
, came in the form of this 2006 release. The album tones down some of the jazz elements Julia incorporated in her past two releases, and concentrates on what Julia seems to do best, oriental songs (like
Ala Shou?
) and dramatic ballads (like
La B'ahlamak
). The majority of the album has an Arabic orchestra, with the exception of
Habibi
and
Deblet Bakkir
which employ more western arrangment.
Ta'awadna Alaik
kicks off the album with a very rich, traditional feel and sets the mood.
Habibi
is in the vein of
La B'ahlamak
, and goes for more dramatic, western ballad arrangement.
Tghayart Ktir
and
Mfakker Inta
returns to the Arabic style, and is typical of Ziad Boutros' compositions for Julia, with lyrics that tell a story.
Ma Btefhamni
and
Menhebbak Aih
are bit more upbeat, with heavier percussion and lighthearted lyrics in which she tells her lover that he is loved regardless of his flaws. Julia always sings a song for her country, and
Khawfi A Weladi
does the honors here. Julia's attention is usually focused on meaningful lyrics that you can relate to, or at least think about. The whole album is composed by Julia's brother, Ziad Boutros, and arranged by Michel Fadel, who also conducts the orchestra. Despite the first-rate music, the summer 2006 Israeli-Hizbollah war cut Julia's plans to promote the album. She did not release any videos or go on tour, and instead of returning to her home in Dubai, she remained in her Lebanon to protest the war. She became an outspoken supporter of Hizbollah, for the simple reason that they were protecting Lebanon. Her songs
Ahebba'i
, inspired by the words of Hizbollah leader Nasrallah, and
Intasara Loubnan
made enemies for her at a sensitive time when most Lebanese singers were trying to keep their political views to themselves. Julia raised thousands from her
Ahebba'i
campaign that went towards rebuilding Lebanese homes destroyed by Israeli fire. Though Julia is reportedly back to work on secular music again, it's unlikely this album will be revisited.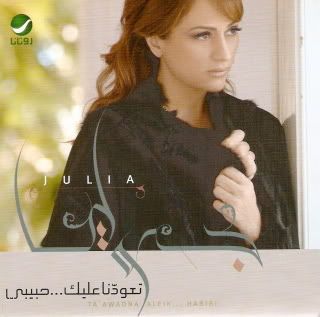 1. Ta'awadna Alaik
2. Habibi
3. Tghayart Ktir
4. Deblet Bakkir
5. Mfakker Inta
6. Ma Btefhamni
7. Menhebbak Aih
8. Khawfi A Weladi
Download Here
256 Covers + Covers