Melhem Zein, who caused audiences to jump on to the stage the day he left Superstar, is one of Lebanon's most well-loved former talent show contestants. His last two albums focused mostly more pop-orientied or slower Arabic songs, but Melhem finally realized where his voice was best put to use with
Alawwah
. The album is dominated by Lebanese dabke songs, which it seems most popular singers have distanced themselves from lately, singing only one or two songs from the genre on their albums. Tarek Madkour is absent from this album, but the variety of arrangers is impressive. From Lebanon, there's Roger Khoury, Bassem Mounir, Bilal El Zein, Dani Helou, Hadi Sharara and Walid Eblan; from Egypt, Karim Abdelwahab and Mohamed Mostafa. The dabke songs range from playful like
Alawwah
,
Aawed
,
Sheddi El Ghetra
, and
Ya Ahl Allah
, to melancholic like
Ghibi Ya Shames
and
Ma Hammak

.
Melhem doesn't neglect fans of the style prevalent in his first two albums however.
Nami Aal Hada
,
Ma Ba'ref Laish Bhebbak
,
Maryam
(dedicated to his newborn daughter), and his hit single
Mamnounak
are pop and jazz-influenced songs. The remaining three songs are just as enjoyable,
Wallah W'alla'tek Fiyeh
is a catchy
maksoum
song,
Yemken
a very traditional, organic mawal, and the album finishes the equally traditional ballad,
Ghab El Ghali
.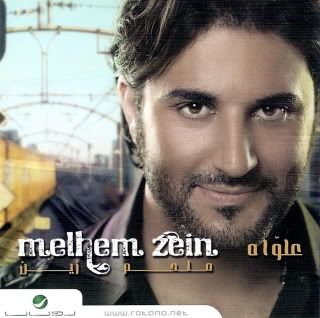 1. Alawwah
2. Wallah W'alla'tek Fiyeh
3. Sheddi El Ghetra
4. Aawed
5. Ghibi Ya Shames
6. Ma Hammak
7. Nami Aal Hada
8. Ma Ba'ref Laish Bhebbak
9. Ya Ahl Allah
10. Maryam
11. Mamnounak
12. Yemken
13. Ghab El Ghali
Download Here
256 Kbps + Covers