Diana Karazon's debut album came only a matter of months after winning the pan-Arab import of Pop Idol,
Superstar
, on Future TV. The first single,
Ensani Ma Bensak
, a Tarek Abou Jaoudeh-Hadi Sharara collaboration, was an instant hit throughout the Arab World. The video clip was a collage of a live performance of the song and celebrations of her victory around the Middle East. The album itself was not a sales success, despite the hype around Diana for winning in the first year of the show and the massive success of her first single. Whatever the reasons for the low sales, quality was not one of them. Diana worked with a great team, including Abdallah El Ga'oud, Wissam El Amir, Hani Siblini, Hadi Sharara, and Tarek Abou Jaoudeh. Diana also remade İbrahim Tatlıses' hit
Tabi Tabi
, composed by Altan Cetin. The album's styles are various and include Khaliji, Lebanese dabke, ballads, and some
tarab
-influenced songs as well. It's definitely a must-listen.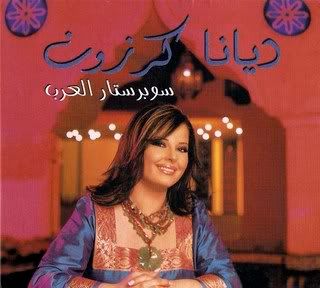 1. Ensani Ma Bensak
2. Hobbak Kawini
3. Omri Law Leila
4. Habibi Ana
5. Ma Sheftak Ella Marra
6. Be Ez El Lail
7. Mahma Alou
8. Bghar Alaik
9. El Shar Barra We Ba'id
Download Here
256 Kbps + Covers