Unlike its
predecessor
, and her
2008 album
, Laura's 2005 album tried too hard to add mainstream pop to the mix. The outcome was an album with some great composition, but many of the songs are overpowered by lackluster arrangement that tries to be "cool" but fails miserably. Negative criticism aside, the overall album is quite good and worth a download. The album starts off with the sleepy
Raweq A'sabak
and the overly poppy
Shouq We Hira
, instantly putting most listeners off. However, once you get past them, there are a couple songs in Laura's usual enjoyable style.
Betthebbeni Aywa
still tries to work in pop beats, but the strings and composition are more engaging than the first two tracks.
Ya M'addeb El Re'yan
is a great Lebanese dabke track, but although the strings, ney, and mizmar are present, the arranger unfortunately decided that overpowering the dabke beat with beatboxing and record-scratching would make the track interesting.
Yah Ya Habibi
is also a good song, with predominantly Egyptian-style arrangement, though the need to incorporate pop into the album creeps in here too.
Ya Nasini
, a remake, is in the vein of
Raweq A'sabak
, with nothing too interesting. The album ends with its two of its best tracks,
Dah Yetla' Min
and
Rayeh Ala Fein
.
Dah Yetla' Min
is composed by Tarek Abou Jaoudeh and arranged by Tony Saba, but the end result is a very Egyptian song, complete with a
sha'bi
-style mawal.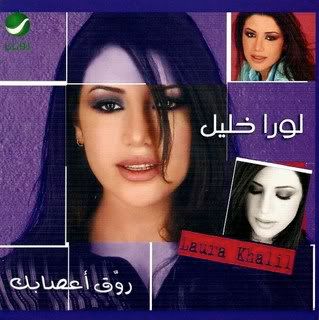 1. Raweq A'sabak
2. Shouq We Hira
3. Betthebbeni Aywa
4. Ya M'addeb El Re'yan
5. Yah Ya Habibi
6. Ya Nasini
7. Dah Yetla' Min
8. Rayeh Ala Fein
Download Here
256 Kbps + Covers