It is when Grace Deeb experiments with Arabic music that she gets interesting, rather than singing overly western-influenced songs. Grace's vocal style may not be "oriental" but she excels at just about anything. She has sung western-style ballads like the hit
Ana Habbayt
and
Comme Toi
, but she has also sung
Ghannali
,
Endak Khabar
, and
Ghinniyat
, which are very oriental songs. Naturally, when Grace released
Ma Btishbah Hada
, I was eager to see how she had evolved. Thankfully, Grace's 2008 album is a great example of how she manages to mix Arabic themes with western ones, and coupled with interesting lyrics. Grace's first single of the album,
O'thorini
is a great mix of Arabic and pop beats, with Arabic strings in the background. The album does not disappoint at all with interesting tunes like
Ba'ref Laish
,
Eini Fe Eino
While many will be disappointed by the fact the album seems to be much simpler, and less diverse, than Grace's first two albums. The absence of George Marderosian and Boudi Naoum, both of whom greatly contributed to her career, is unexpected. With the exception of
Eini Fe Eino
and
Bo'dak Anni
, the album is almost completely composed by Grace herself. Perhaps the absence of producer Anoud Ma'aliqi's name from the CD explains the major changes in Grace's musical team.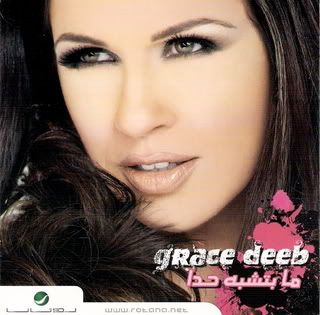 1. O'thorini
2. Ma Btishbah Hada
3. Eini Fe Eino
4. Ba'ref Laish
5. Bo'dak Anni
6. Asfa
7. Gelli Keif
Download Here
256 Kbps + Covers