Melissa's launch began with her first single,
Leil Ya Leil
, which casual listeners first mistook for a new
Elissa
song, due to their initial vocal similarity. However, with the release of her first music video, it became clear that this was Jean Saliba's (Elissa's former producer) new project. Like Elissa's early 1998-2000 work, Melissa worked with Turkish composers, but with much better results for the most part. Melissa's debut album is a very different album from its successor,
Mfakker Halak Min
. The title track is a dull jazzy number, but the album gets more exciting with the second track,
Leil Ya Leil
, which was in the dance style she decided to continue with in her second album. Unlike her new album, this one has many more slower-paced songs, and a much more traditionalist approach to the arrangement on most of the songs.
Dabou Oyouni
and
Habibi La Teb'od Anni
are slower ballads, while
Albi Eshta'lak
and the hit
Kam Sana
are slightly more upbeat.
Hobbi Ana
is another slow-paced song but with a great beat and arrangement. Finally, the album ends with
Wehyat Albak
, another dance song in the vein of her newer work, and a remix of
Leil Ya Leil
. The majority of the album is arranged by Lebanese arranger Jean-Marie Riachi, with the exception of tracks 6 (Boudi Naoum) and 8 (Aytekin Kurt).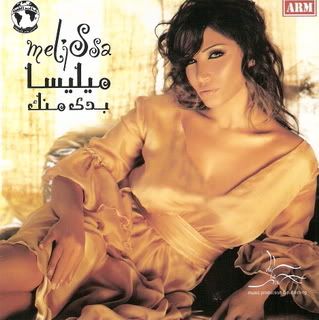 1. Baddi Mennak
2. Leil Ya Leil
3. Dabou Oyouni
4. Albi Eshta'lak
5. Habibi La Teb'od Anni
6. Kam Sana
7. Hobbi Ana
8. Wehyat Albak
9. Leil Ya Leil (Remix)
Download Here
256 Kbps + Covers