Nawal's seven-year stint with Alam El Phan/Mazzika ended this year with her return to Rotana, whom she left on bad terms after her 2001 hit,
Toul Omri
. Rotana PR's slogan spread through the media fast
:
"نوال و روتانا سوى من جديد
"
(
Nawal and Rotana, together again
). Nawal, who produces her albums herself, had her album ready for release soon after and in January 2008,
Khalas Sameht
was released. Sporting not only a new haircut, but an almost completely different team of musicians, and a new director for her video, Nawal Al Zoghbi's style had changed in almost every aspect.
Khalas Sameht
,
Leih Moushta'alak
, and
Law Kan
were the typical pop that Nawal has gotten us used to, however, in the vein of her previous album, Nawal was sticking with a more Arabic musical style in the rest of the album.
Albi Es'alou
and
Shou Hal Alb
employ strong Arabic beats and strings, coupled with electronic beats and motifs, in Hadi Sharara's signature style.
El Hawa We Amailou
,
Tigi Mennak
, and
Ma Tes'al Alaya
are distinctly Egyptian songs, and thoroughly enjoyable. Overall, the album is a younger, and much more enjoyable effort from Nawal Al Zoghbi.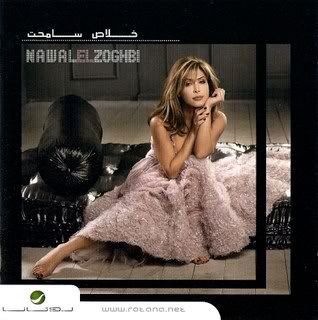 1. Leih Moushta'alak
2. Albi Es'alou
3. Khalas Sameht
4. El Hawa We Amailou
5. Law Kan
6. Tigi Mennak
7. Ma Tes'al Alaya
8. Shou Hal Alb
Download Here
256 Kbps + Covers