Nelly Makdessy's third album
Ana Eih?
was a much greater success for her than
Ahli Arab
, for more reasons than one. It had a good team of musicians like its predecessors, but it was also partly because the the scandal around the fabricated pornographic photos, that almost destroyed her career in 2003, had subsided. As is usually the case with Nelly, there are very few slow songs on this song, and upbeat songs with big percussion dominate. The album's title song is a great fusion of both electronic and Arabic music, typical of the work Tarek Abou Jaoudeh and Hadi Sharara did together. The second single,
Eshtaq
, is an upbeat
maksoum
song composed by Tamer Ali. The two slower songs,
Keif Ansak
and
Ana Wel Leil
, are by Turkish composers Ozcan Deniz and Zulfu Bayhan.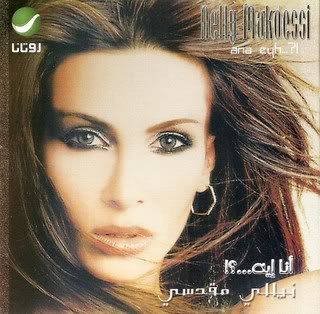 1. Ana Eih
2. Law Betthebbeni
3. Keif Ansak
4. Eyounak
5. Ana Wel Leil
6. Eshtaq
7. Ghali
8. Hobbak Na'em
9. Met'eb El Galb
10. Ya Bourdain
Download Here
256 Kbps + Covers